Technology and marketing automation continue to bring a transformation and have disrupted the traditional marketing trends. The tools and technologies have augmented the marketing practices and offer tailored-made solutions to customers.
Marketing automation plays a vital role in boosting customer engagement, retaining customers, and enhancing the productivity and efficiency of the sales team. As per research marketing automation has now grown to a $6 billion industry and the number continues to rise.
Automation is a trending and growing industry and is expected to reach a CAGR of $8.42 billion by 2027.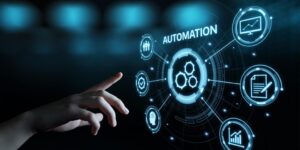 While the automation helps to track the efficiency and scale the operations at a great level the organizations have started to leverage the benefits and offer customers a personalized experience and satisfy them.
Crucial trends in marketing automation over years
Marketing automation is one of the most effective tools that help boost the bottom line, satiate to the customer's needs and improve the conversion. Let us go through all the latest trends you must be aware of:
Technology Innovation
The marketing automation industry has seen prosperous growth and technical innovation is shifting the paradigm to offer an edge to marketers while attracting potential customers. Therefore technology such as AI, blockchain, and others have a robust role in the effective marketing strategy and offers customers a personalized experience.
Omnichannel Experience
To manage the contacts and the data with ease marketers and businesses are focusing on personalized omnichannel experience. And it is only possible with the right automation tools that streamline the campaigns, manage the customer data and help to execute all the tasks effectively.
Performance marketing
With advanced automation tools and technologies such as AI, businesses can be visible on different platforms at a much higher rate. Performance marketing is the right tool that drives actions, measure actions, attributes ROI of every asset, and increase brand visibility while boosting the search results.
Chatbot Integration
Integrating chatbots helps the brand engage the customers efficiently and bring more users to your platform. Machine learning Natural learning process helps to predict the behavioral data of customers and analyze the touchpoints of the customers. For more information regarding Chatbot integrations Visit our website- Webprofessor.
All of the above points indicate that marketing automation act as a catalyst in 2022, offering users unique, engaging experiences and adding value to the customer's demand! Want to engage your customers and streamline your productivity? Reach out to us and avail of our services.