Shopify vs WordPress
The traditional method of shopping like brick and mortar is now replaced by online shopping and e-commerce stores. As the paradigm continues to shift and people enjoy shopping at their convenience, an e-commerce store becomes mandatory.
Launching an e-commerce store has become for almost every business, and they tend to look out for a perfect platform so that they can embrace the maximum benefits. It eases both vendors' and sellers' responsibility while offering them versatility.
Now when it comes to choosing the right platform, Shopify and WordPress are the most popular names in the e-commerce world. These platforms offer flexibility, have a robust reputation, and have a great performance. But the question here arises is what platform should you prefer?
Shopify vs WordPress, it becomes difficult to choose the right one. Here is a blog that covers every inch of detail of comparison between these platforms and helps you choose the right one. Let's dig deeper!
An overview of Shopify vs WordPress
About Shopify
Shopify is a web application that has been specifically designed to allow merchants to build and launch their online stores.


Shopify refers to a web application that allows businesses, vendors, and merchants to build an online store and launch their products. It is also known as a website builder and offers a range of templates that you can customize to meet the business needs. The platform allows you to sell goods and opposed to adding blogs or resumes!
Even if you have limited technical knowledge, you can use the platform and run your online store successfully. To keep the site alive, you need to pay a small fee every month. Hiring the best Shopify development company helps you streamline the entire process.
About WordPress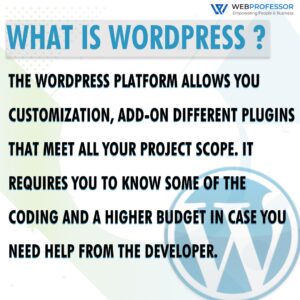 Hosted WordPress and self-hosted WordPress are the two types of WordPress platforms. Hosted WordPress is similar to WordPress and covers a broad range of features and plugins that help you maintain and run the blog or e-commerce site.
However self-hosted WordPress refers to the software you need to install on your web server. It can simply be installed from wordpress.com.
The WordPress platform allows you customization, add-on different plugins that meet all your project scope. It requires you to know some of the coding and a higher budget in case you need help from the developer.
Here is a Quick Comparison, Shopify vs WordPress
Shopify Pros and Cons
Pros
The businesses do not require any technical knowledge if they want to use Shopify.
It is especially for e-commerce websites with all the essential tools that help boost your sales with the tools you must have.
It does not require you to pay for hosting services or security externally.
Cons
The businesses need to pay a transaction fee if the Shopify payment gateway is not used.
To change the theme, you have to reformat the content.
WordPress Pros and Cons
Pros
It is more robust and flexible and allows complete customization for businesses.
WordPress recently launched a new editor called Gutenberg, which makes it easier to use.
It has active community support from both user forums and professional developers.
Cons
It needs you to have a knowledge of technical things and can get more expensive.
You need to buy hosting services and domains by yourself when using WordPress.
Another important factor you must consider is the price. Shopify offers a 14-day free trial, and after that, the businesses can choose between lite, basic, Shopify, advanced and, plus plans. Whereas WordPress is free but there are variables involved for which you need to pay such as web hosting, template, plugins, e-commerce integration.
Winding up!
Now based on the above factors, it becomes easy for you to ultimately decide the platform you would choose. If you are looking forward to launching your e-commerce store, WebProfessor is a leading organization that can help. Develop your website now!