The Importance of Digital Marketing, Why it is Important for Business Online?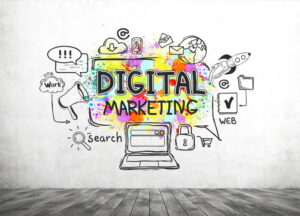 Digital marketing is the process by which businesses reach out to potential customers and followers across multiple platforms, including digital media.
Digital marketing has evolved over the years and now it is more than just a single medium of reaching customers. In order to be successful in this field, you will need to use a mix of different channels. Marketing moves fast, so it's important that you stay up-to-date with current trends so that you can provide your customer with what they are looking for.
The evolution of digital marketing:
With time, it has become more crucial for businesses.
Internet marketing encompasses many different forms from email marketing to paid campaigns.
It can be difficult for those without experience in this field; companies should consider hiring professionals like WebProfessor to beat the competition in this digital era.
Here are the few importance of Digital marketing for your business
Cost effective
The importance of internet marketing is evident in the current competitive market. With the rise in internet penetration and rising digital literacy, businesses are faced with a myriad of options to market their brand.A shift has been observed in the priority of marketing budgets from print to digital and offline channels. This shift has led to an increase in spending on digital marketing. As a result, companies are looking for more cost-effective ways to spend their marketing budget.
Brand awareness
Brands are not just static things that are found in the physical world. They have a certain personality and can have an impact on the way people behave.Today, brands have to be present online and online platforms help them get in touch with consumers. The modern-day marketing strategy is to create content that has the potential to generate brand awareness.

Digital marketing has evolved over time and it has become very crucial for businesses to have good digital marketing strategies in place to stay competitive.

Global reach
It is a key part of any business's strategy. It helps you reach your target market and get in touch with them locally as well as globally.As more and more people are getting access to the internet, marketers have to be creative about the way they market their products and services. This is where digital marketing comes in handy. It helps them reach their target audience through various channels such as content, social media, online communities, paid campaigns etc.
What is a Specific Example of How Digital Marketing Helped Small Businesses Grow?
Small businesses have better chances of succeeding with digital marketing. With the help of digital marketing, small businesses can grow their audience easily and reach out to new customers through the internet.
It can be used for different purposes in SMEs. Marketing firms use it to generate leads for their sales team, for instance. For SMEs, it is mostly used as a way to connect with their existing customer base and create content that is more relevant to them.
The power of internet marketing lies in its ability to provide a reliable source of information on products and services that will benefit their audience. This allows them to make changes according to the needs of their consumers without having a huge budget or requiring a lot of manpower.